The campus at Miami University is famous for their Neo-Georgian style red brick buildings. However, many people are unaware of the Western Campus, formerly the Western College for Women before being merged with Miami University in 1974. Western Campus implements architecture of various styles. Intertwined with these different buildings are many stone pedestrian bridges. The bridges are all the work of Cephas A. Burns, a grandson of freed slaves.
Burns was commissioned by the president of the Western College and instructed to replace all the wooden footbridges with stone ones. One of the things that makes the Western Campus bridges unique is the use of round stones of varying colors that Burns collected from the local creeks. The use of local stone blends the bridges into the landscape and provides cohesive design elements with an architecturally diverse campus. Western College's campus is recognized as a historic district in the National Register of Historic Places.
In December of 2014, THP Limited, Inc. (THP) was hired by Miami University to evaluate the condition of the longest stone bridge on the Western Campus. The bridge is 8'-0" wide, 140'-0" long, with an active stream running below one of the main stone arches. The bridge has been subjected to approximately 100 years of Ohio weathering cycles and sporadic maintenance. THP noted deterioration in the mortar and that previous repairs were failing. THP's assessment recommended the bridge be repaired to reestablish long term structural viability, and a code compliant 42" high guardrail be installed to improve pedestrian safety.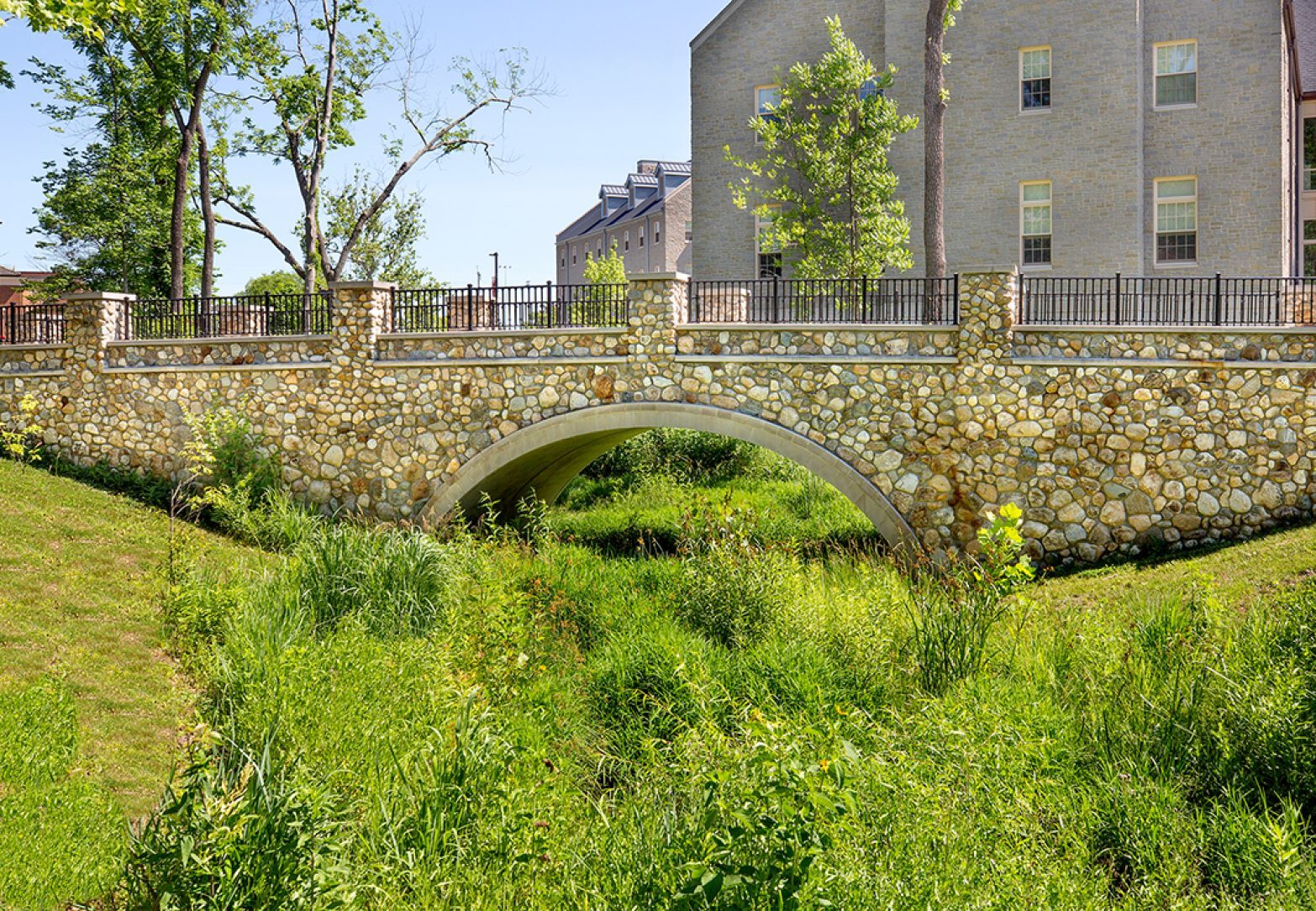 In total, four bridges received new duplexed railings: a precast and stone bridge 172 feet (3,082 lbs) of railing, steel bridge 4,200 lbs of structural steel and 100 feet (3,562 lbs) of railing, Western Campus Presser Hall Bridge 220 feet (3,982 feet) of railing, and Western Campus Pedestrian Bridge 480 feet (8,700 lbs) of railing.
During the design process the fabricator and galvanizer teamed up to offer the University the ultimate solution for protecting the new bridge rails - that is hot-dip galvanizing and powder coating. THP's design intent was to match the original bridge aesthetics as closely as possible, while making subtle improvements to increase durability. The corrosion protection of the duplex system along with the corrosion protection of hot-dip galvanizing played an integral role in the replacement of the rails and the rehabilitation of these historic bridges.