The Living Room structure is the first to be delivered and sits opposite the new British Council and Cancer Research UK offices. In this structure the house is turned on its side, forming a sheltered pitched canopy with tiered seating. The cladding is formed of glossy metal shingles which create a colorful gradient from leaf green to magenta, responding to the hues of the surrounding planting. This was achieved through close collaboration with the landscape consultant to ensure that the colors and form of the pavilion were developed in conjunction with the landscaping. Internally the pavilion is clad in perforated colour ppc metal panels which conceal light fittings behind so that, at night the whole structure glows in the landscape with a a pixelated quality.
The galvanized steel cantilever structure, clad in glue-laminated larch timber, is repeated through nine bays, supporting a canopy roof which wraps around one side of the structure. At the centre of the Living Room is a 7 m collaborative timber table with swing out stools that playfully invite a range of uses from nearby of office workers and the public.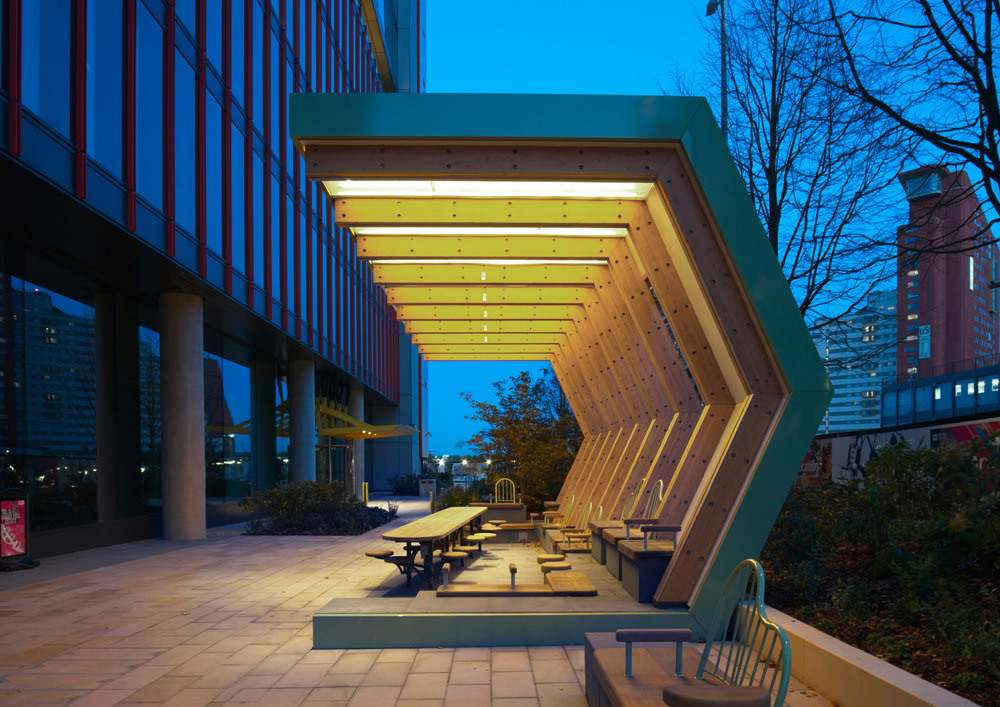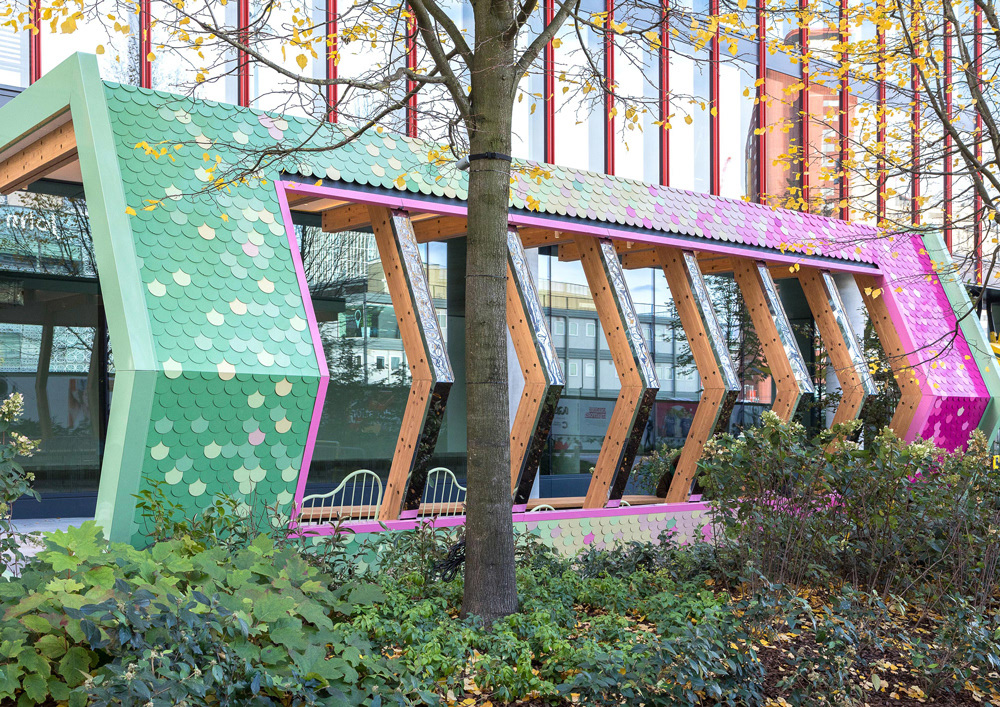 Surrounding the table are stepped pre- cast concrete plinths with 'upholstered' timber seat pads and traditional spindle back and arm rests in colorful metal. Exposed glulam timbers with a steel itch plate act as the main structural ribs whilst also allowing for cosy seat niches where one can sit and look out through the large opening in the back wall. Integrated lighting, external sockets and USB charging points allow for outdoor working and night time use.
Powder-coated aluminum shingles cover the exterior in a bright & colorful pattern blending from vivid pink to pastel green, creating a sculptural shelter from every view point. The vibrant color scheme is continued in the bespoke, galvanized and powder-coated steel work of the fixed furniture inside, with durable hardwood seating and a long communal table.
* This project was nominated by V&S Galvanizing for the American Galvanizer's Association International Award. Galvanizing completed by Joseph Ash Galvanizing, a co-subsidiary company of Hill & Smith Holdings Plc. Learn more: https://www.josephash.co.uk/